May 11th, 2013 by RJJNYC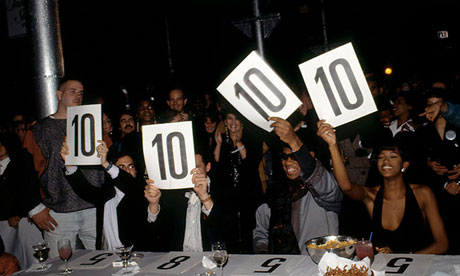 Tanqueray Sterling AIDS benefit Ball at the Sound Factory, November 9, 1989
Copies of the lovingly created book Voguing and the House Ballroom Scene of New York City 1989-92, with
photographs and interviews by Chantal Regnault and an introduction by Tim Lawrence, are still available from the Soul Jazz Records website. There's also an accompanying 3 CD box set with a mix by Junior Vasquez and postcards of several of Chantal Regnault's photographs.
"The latest voguing is called vogue femme – it's neither the old way nor the new way. The dip that they do is called the macayella. It's something that teenagers or people in their 20s should do, because anyone over 40 that tries that dip will regret it. Your back cannot bounce like those kids who bounce down and then go up again. If I bounced down like that, then I'm going to stay down there, and there's going to be an ambulance called. But that's the new vogue."
– from the interview with Kevin Ultra Omni.
Posted in Uncategorized | No Comments »